Hey Reader,
A 2022 roundup of all my favorite things! ✨
Are you just starting your gift shopping, looking for stocking stuffers, or just treating yourself? Well, I have compiled a list of all my favorite things I've purchased in 2022 across two categories: Design & The Great Outdoors. Sometimes, the best gifts are fool-proof and probably something you've tried before. That is why everything in the list below is something that has stood the test of time/wear/use and is now integrated into my lifestyle.
Design:
​Outway Socks: A local brand in my city, Victoria BC. Outway makes socks for the active lifestyle. These are my go-to socks for biking and general day use! I love to support local so I am sharing them with you to spread the local love.
​Grayscale Font: Charli Marie's signature handmade sans serif font. Initially drawn by hand with a brush marker, Grayscale is a sans-serif font designed to be clearly legible while still giving a handwritten touch.
​Analog - To-do list tracker: As a designer, I am making to-do lists probably every single day. Analog has helped categorize and, dare I say it…. Actually, make progress in my projects?! This sleek and simple design makes completing tasks fun. It sits on my desk and gets daily use.
​Solid oak frames: A simple addition to your home that adds character and elegance all in one. These frames need no introduction as they are visible in almost all of my newest youtube videos. I truly love these frames and have them in all different sizes!
​Nexstand Laptop stand: Bought this in hopes of saving my posture. My favourite part is that it easily fits in my backpack and is super lightweight! I take this Nexstand with me every time I travel.
​Keychron keyboard: The hype is real! The look and feel of this keyboard make my workflow so much more enjoyable and the Bluetooth functionality makes this perfect for travel. The light effects are fun, and overall it has seriously levelled up my WFH setup.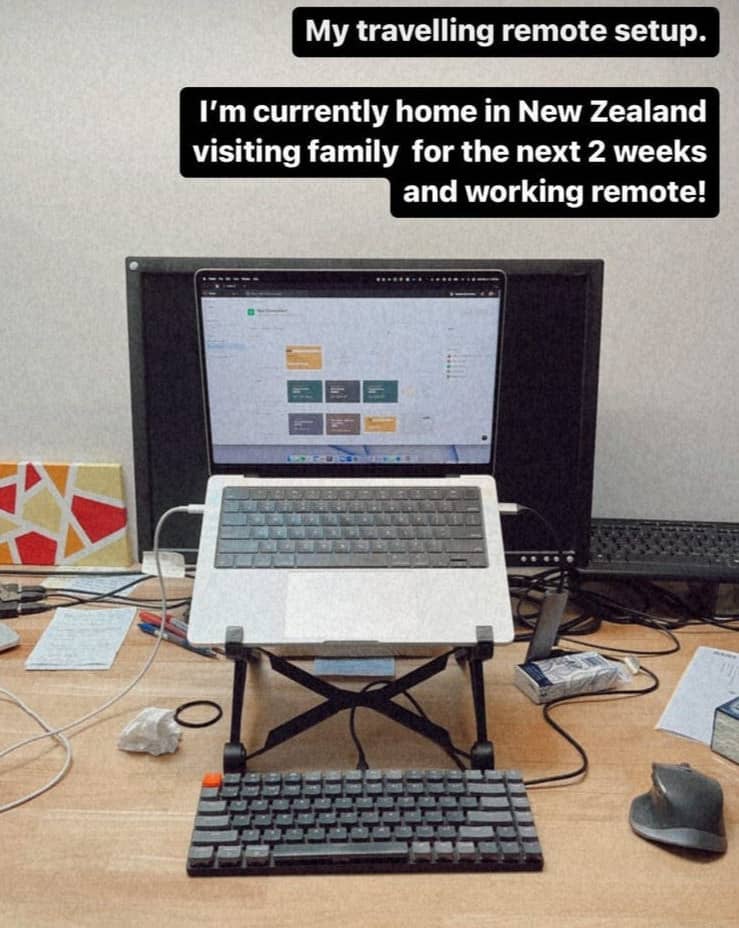 The Great Outdoors:
​Trailforks app: This year I picked up mountain biking, and it has been life-changing! Sometimes it's hard to find trails for my difficulty level. Trailforks have made it easy to find new trails and I can even the maps are interactive!
​Noxgear: This light-up harness for both humans and pets makes exercising or walking in the dark fun! I love all the bright colours, not to mention that I now feel safer during my nighttime walks (especially in the winter).
​Any Distance - Workout Tracker: This app honestly makes me WANT to work out or jump on my bike and ride. I now find joy in cardio which I never thought I would. It's fun to use, thoughtfully designed, and has a beautiful interface.
​Fjallraven cross-body bag: Definitely my grab-and-go bag. It's made from recycled nylon and the perfect size for when I want to carry only the essentials. It's also waterproof which is a major plus as the weather here in British Columbia can change very quickly!
Last, but not least:
If you're here for gift ideas, I have a great one: A subscription to the femke.design community! Join an active and engaged community, design critiques, 1-on-1 time, and Masterminds! What's better than a gift that can level up your design, skills, and career?
---
Sponsored
How to optimize your design-to-development workflow
A key aspect of building designs is giving developers exactly what they need. See how Zeplin makes design handoff a seamless part of the development process.
---
Happy Holidays and Happy New Year 🍾
Wow, I can't believe it's been another year! So much happened that was not on my "life roadmap." From taking some time off to focus on the content I create for you and now starting my dream role at Gusto. So much has happened, but here's a quick roundup of my 2022:
Started mountain biking

Rekindled my practice for pottery

Announced my online course

Felt confused about where to take my career

Met fabulous new online friends

Hosted live streams centred around meaningful content

Grew the femke.design community

Found meaning in mentorship

Earned more through side projects than my full-time job

Spent time more time with loved ones
It's been a great year together, and it has been fantastic getting to know all of you - whether it's in the Youtube comments section, interacting on social media, talking about hot 🔥design topics in Discord, or even speaking 1-on-1 in our mentor sessions.
I'm super excited for what's to come for my channel and community. Thank you for an awesome 2022, and here's to an exciting 2023! ✨
---
Kickstarting your Design Career Workbook
The holidays are a time for reflection, especially for a creative. A year goes by and we still try to answer the same questions as the previous year: What can I do to stand out and embrace my uniqueness? How do I discover my values and what I want out of my career?
This digital workbook + video will provide you with actionable takeaways to kickstart your design career. You'll receive:
50+ page digital workbook in PDF format

List of resources to continue your journey

Link to a pre-recorded video of Femke & Angie to guide you

Presentation from the video in PDF format
---
Deciding what side projects to tackle in 2023 📝
Planning your side projects for 2023? If you're thinking of expanding or starting a side project over the next 12 months we hope you find value in this episode as we share our plans and ideas for 2023.
---
Gems of the week 💎
🚀 The state of UX in 2023
The 9th edition of The State of UX report is here: a critical look at our industry based on 1k+ articles published and shared with our 500k+ subscribers in 2022. A member who is a senior UX Designer @ Google shared this in our community member Discord, which led to interesting reacts in our community. What do you think about this report?
🧐 A note on job hunting...
femke in NZ 🇳🇿

@femkesvs
November 26th 2022
This week we had a lot of job search discussions in Discord. It looks like many community members are on the job search right now and are looking for feedback on their resumes and portfolios. If interested in specific advice you can sign up for my job-ready combo with 1 on 1 career mentoring here.
And just for community members 😉 I shared how to stand out in the general 'Tell us about yourself and why you're interested in [company]' question in the job application process.
In the past, I've made a Loom video in an effort to stand out and be more personable. I shared the video with the community. You can view it in #💼career! ​
---
Have a topic you'd like us to chat about? Reply to this email and let me know!
​